When I had resigned from my corporate job to pursue my creative interests, there was a polarizing reaction from family, friends and acquaintances. While some were extremely supportive and confident about me, a few others thought it was a foolish decision and asked me to think through it again objectively and practically. I remember an acquaintance telling me – "Anupama, look before you leap. It may not be worthwhile to take this risk.".
At that point, I was clear that I am not going to go around justifying myself to anyone, so I imperturbably responded – "I have already looked before taking the leap. I am aware of the risks and am ready for it."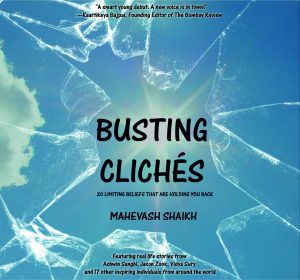 Busting Cliches by Mahevash Shaikh does exactly this – makes us see these popular sayings/proverbs in a new light and helps us to understand their true essence.
At the outset, I want to clarify that I am not a fan of self-help books. I have tried reading a few in the past but could never warm up to them. But, this book is different because it is not a one-sided philosophical lecture but an experience which involves the reader all the way through. Mahevash Shaikh presents this book to us in an easy to understand, structured and lucid format. She strikes the right balance and makes it both, an enlightening and enjoyable read. What works the most about the book is her realistic approach in busting the clichés which may act as hurdles in our life's journey and have the potential to limit our growth due to misinterpretation. Because, after all, our beliefs and attitude influence our decisions and the path we choose to march on.
The book picks 20 well-known proverbs and systematically analyses it for the readers. The author approaches this by beginning with the intended meaning and misunderstood version of the cliché. She follows this up with a popular music reference and a visual depiction with an example which I thought was pretty unique and effective. Then comes the takeaway which is not the typical empty or hackneyed "gyaan" but rather, it comes from a place of experience, sensibility and a keen understanding of life and its ways.
The tone is gentle and thought-provoking because of which the author almost seems like that wise and reliable friend who we would never hesitate to run to for advice. What I absolutely loved in this book is the inclusion of the sections "They said it" and "They experienced it" in which she has shared the quotes and stories of eminent personalities. This is not just inspiring but also lends that extra layer of authenticity and credibility to the book.
There is also a "Think" section for each cliché which encourages us to ponder and introspect, and pen down our thoughts related to it and our life experiences. Similarly, the penultimate blank pages are for us to open up and write about the clichés which get to us and what we plan to do about handling them. The book ends with a brilliant list of recommended movies/books/websites to guide us, motivate us and aid us in transforming our deep-rooted thinking and perspectives.
Because of its compact size and design, Busting Cliches is more like a diary/handbook which one can easily carry anywhere. You can read how much ever you want to at one go, and can always re-visit the book at convenience as the impact would remain the same. It should ideally be read multiple times at different stages in life. Every time you read it, you will absorb the contents differently which will usher in new ideas and thought processes to your mind. You don't need to be going through a tough time to read the book. It is also imprudent to expect the book to suddenly or drastically change you from within after reading it. Invest in it to grow, evolve and learn progressively, and you will not be disappointed!
//This article was published on Women's Web and is available at the following link.