Accolades
Interviews
SAfm Radio (South Africa's National Radio and News Channel)
Invited as a guest by SAfmRadio (South Africa's official National News and Talk Radio channel) for their LIVE Talk Show "Late night conversation with Patricia Ntuli". The topic of discussion was parents living their unfulfilled dreams through their children.
Winning Stree
Video interview with Winning Stree, a platform dedicated to sisterhood and the growth of women in diverse fields, for their Chat Show WS Talks.
New Indian Express
Interviewed by New Indian Express where I talk about my entrepreneurial journey and my venture "Beyond the Box". Read the article here.
YourStory
YourStory, one of the largest online platforms of India, covered my entrepreneurial journey. Read it here.
Women's Web
Interviewed by Women's Web, a leading online platform for women, for their "Newsmakers" section. I talk about my journey as a blogger, entrepreneur and influencer here.
Interviewed by Literaturepress for Criticspace platform. I share about my journey as a writer and my debut novella "Aarohi" here.
Interviewed by award-winning portal "Kreativemommy" which is a lifestyle and parenting guide. I talk about my journey here.
More…
Media Mentions
The New Indian Express
Featured among the top digital Influencers of India acing the Influencer market in this article by The New Indian Express.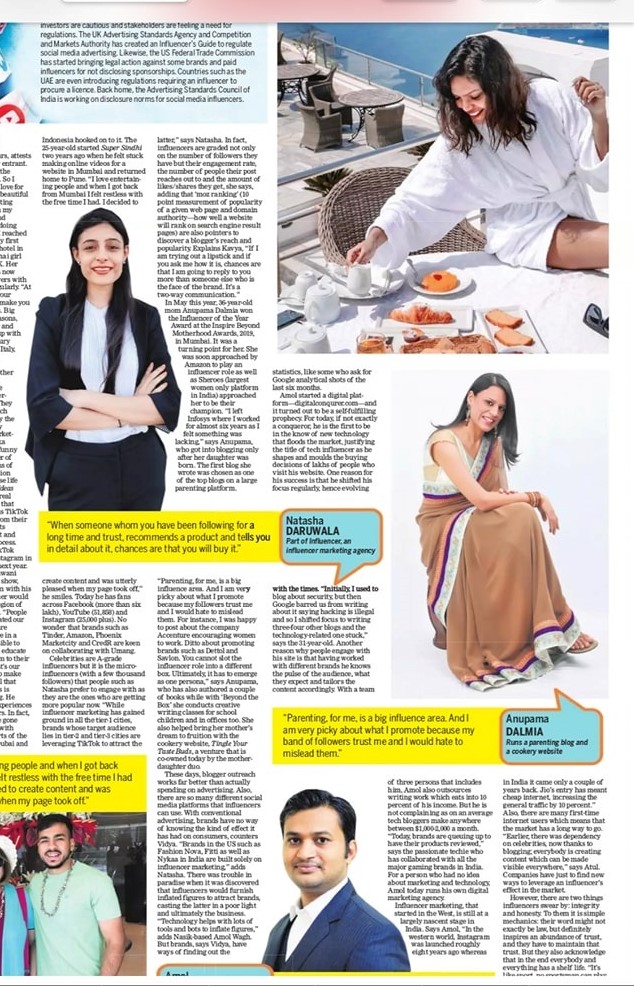 Femina
Featured by Femina among the 5 leading bloggers of South India.
Featured among the top bloggers of the decade by Influglue, one of the leading influencer marketing platforms in India. Read the article here.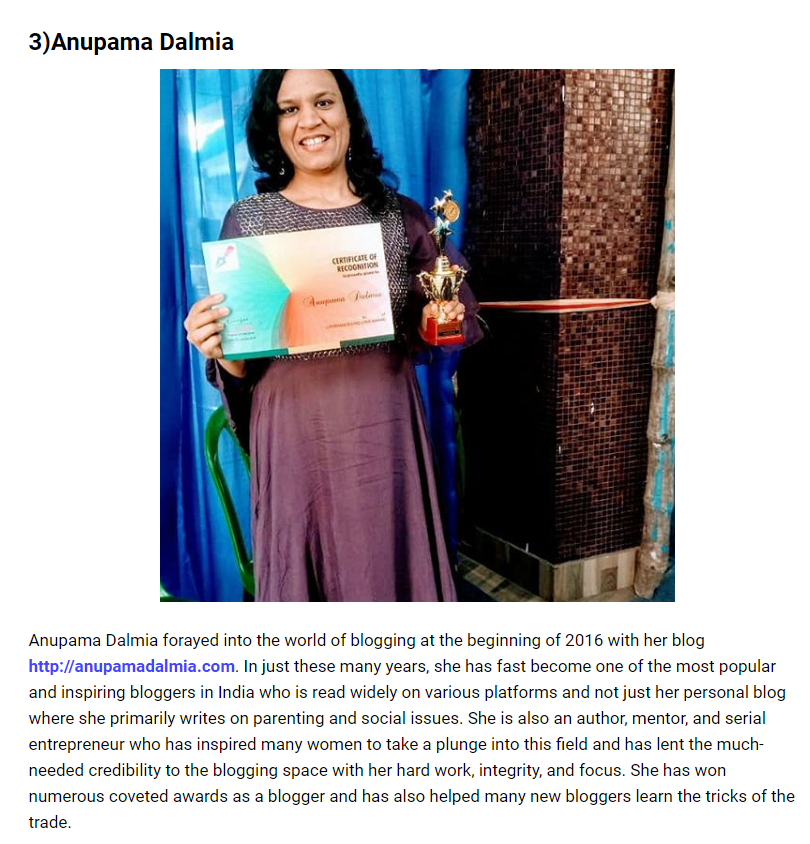 Featured by Youth ki Awaaz among the 10 inspiring individuals in India who are using social media to make a positive impact. Read the post here.
Inclusive India which is a digital media platform dedicated to bringing positive and inclusive stories from all over India to the forefront featured my journey here.
Featured among real-life warrior women who are making a difference in this International Women's Day special post by Women's Web.
Invited to play the role of Sheroes Champion as a motivator for the 15-million-women community by engaging with them through my posts.
Chosen as Amazon approved Influencer with my own storefront of recommendations on Amazon.
Featured by hydnews.net on the occasion of International Women's Day 2019. Read the article here.
Featured by Mompreneur Circle among the 11 women entrepreneurs from India for their Women Entrepreneur of the Week Series in February 2019. Check the post in this link.
Featured among the top 25 writers of 2018 by Women's Web. Read the post here.
Featured in the list of 5 women entrepreneurs who quit corporate jobs to pursue a different path by YourStory here.
Featured by Women's Web among the "Special List Of 10 inspiring Indian Mommy Bloggers Redefining The Norms Of Motherhood"
Featured by Goodreads among the top 3 "Best Kindle Unlimited Picks for Indian Readers – 2018" for my debut novella "Aarohi"
Featured by Women's Web among the "Top 10 Indian Women Bloggers you must follow"
Featured as a part of ICICI Bank's "Fund Your Own Worth" campaign that brought forth stories of inspiring women from all over India. Link to the story: "I did what made me happy"
Key Publications
My poem "Collision of Two Worlds" has been published by Spillwords which is a coveted International Literary space. Read the poem here.
Invited by Penmancy to share ideas and tips from my writing journey for writers associated with their platform. All the posts from #AnupamaQuillsIt series posted in August 2019 can be found here.
My article on "New Year Resolutions" was published online by multiple leading dailies like Business Standard, Outlook India, The Statesman, Daily Hunt, We For News, News D, The News Indian Express, Prothom Alo and Rajasthan Patrika. Sharing one of these links to the article
Contest Wins/Top Blogs
Won the 2nd prize in "Kadam Chhota, Change Bada" National level writing contest organized by Women's Web in association with Padman and Zee5 for my story "The Homecoming". The winners list can be found here.
Associated with the Savlon Campaign which won 2 golds in PR & Outdoor, and 3 Bronze in lions health, promo & activation & PR again at Cannes. My article for the campaign was "Kudos Savlon India for a plan well 'chalked' out!"
My story "And she shut the door" was the 2nd most loved story on Momspresso in 2018 out of 18000+ blogs published on the platform that year. Read the list here.
My blog "A lean child is NOT a weak or unhealthy child" garnered over 2 million views on Momspresso and is one of the most popular posts on the platform.
My story "The Value of Life" was chosen among the top 10 stories by Juggernaut Books as a part of their association with "We The Women Asia" event.
My post "Take that step forward NOW, towards an essential pleasure" with over 1.2+ lakh views was chosen among the 10 best posts in the year 2019 on Women's Web. Check out the editor's picks here.
My blog "Are we worth it?" was chosen among the top blogs of the year 2017 by Momspresso.
My 100-word-story "The Mirage" was chosen by Momspresso among the top 5 stories on the platform in 2018 out of 4000+ 100-word-stories published.
My story "Those Thirty Minutes" was picked by Aparna Vedapuri Singh, founder of Women's Web, as her top favourite post on the platform on the occasion of 9 years completion of Women's Web.
The post "I Don't Expect My Child To Achieve My Dreams. She Will Live Her Dreams, Not Mine!" was chosen by Women's Web among the top 8 articles on the platform as a part of #8YearsOfWomensWeb celebration.
The article "To Quit or Not To Quit?" was among the top 5 reader favorites of the year 2016 on Women's Web.
Winner of "Warrior Women" contest conducted by Women's Web in association with Juggernaut Books for the entry "Beauty does not lie in the eyes of the beholder"
For complete list of contest wins, please click here