Tag Archives:
book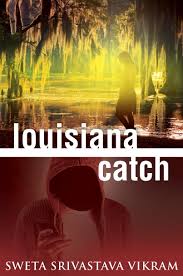 Book Details
Author: Sweta Srivastava Vikram
Publisher: Modern History Press
Available for purchase at the below link:
https://www.amazon.in/Louisiana-Catch-Sweta-Srivastava-Vikram-ebook/dp/B0793N3ZTR/
Review
"You never asked to be raped. Biology works differently. So what if your body responded; your mind didn't! He violated you…"
A sexual abuse survivor who I was once counselling told me about how she was accused of "enjoying her rape" because she had an orgasm, even though she kept screaming her lungs out to stop the perpetrator from committing the heinous crime. Thoughts of her ordeal make me shudder even today. So, when I read the above line in author Sweta Srivastava Vikram's latest novel Louisiana Catch, it hit a raw nerve. It made me sit up and applaud the author's gumption and valour to talk about issues which most would prefer to bury under their carpets.
This line actually encapsulates the essence of the novel which is an honest, uninhibited, sensitive and courageous story of a woman whose journey about finding her inner strength in the face of adversity will indubitably touch your heart.
Plot summary
Ahana is a 33 year old modern woman from New Delhi who is struggling to come to terms with her divorce. The toxic relationship has impacted her deeply, and just when she begins to pick up the pieces and move on, tragedy strikes again. She loses the most important person in her life who has always been her anchor in times of distress – her mother. Her life seems to be in shambles, and in order to escape it all, she takes up the responsibility of spearheading a feminist conference in New Orleans.
Two men enter her life at this vulnerable juncture and while one of them seems to be a friend she can open up to, she feels offended by the other's bawdy sense of humour and ostensibly flirtatious demeanour. But, are people always the way they appear to be? Does the grief-stricken and distraught Ahana unearth the vigour from within to trust and love again? And most importantly, can Ahana break free from the gloomy labyrinths she feels caged in as a survivor of sexual violence?
What works
Realistic and relatable characters
I was mighty impressed with the way the author has fleshed out each character in the novel. They not just contribute significantly to the plot but are convincingly portrayed.  In Ahana, the author has created a protagonist who will make you experience a myriad of emotions just by the way she is. You will find yourself rooting for her, cheering for her, shedding tears with her and smiling with her. She could be anyone you know. And while the story is narrated from her perspective, you get to know as much about every other character in the tale. They are the kind of people we meet in our daily lives, bringing their own unique flavour to the novel.