Tag Archives:
series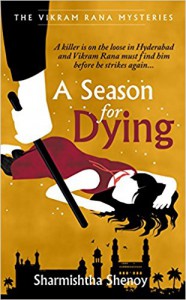 Author: Sharmishtha Shenoy
Amazon link for purchase:
http://www.amazon.in/Season-Dying-Vikram-Rana-Mystery-ebook/dp/B06Y3LZ76F/
The good thing about reading a novel from a new author is that you enter its world without any preconceived notions or conjecture. With "A Season for Dying: A Vikram Rana Mystery", my mind was a blank slate as I plunged into it and I was in for a pleasant surprise. Since childhood, I have always devoured thrillers with a detective as a protagonist. Be it the classic Indian Television series "Karamchand" or the iconic "Byomkesh Bakshi", the associated memories are still clearly etched in my mind. I am glad to share that in Vikram Rana, Ms. Shenoy has created a detective character which has the potential to be in the same league as these glorious detectives we have cherished during our growing years. The "Vikram Rana Investigates" series is set in the city of Nizams (which probably made me connect to this book all the more being from Hyderabad myself) and "A Season for Dying" is the second installment in this series.