Author: Sharmishtha Shenoy
Purchase from Amazon at the following link.
The good thing about reading a novel from a new author is that you enter its world without any preconceived notions or conjecture. With "A Season for Dying: A Vikram Rana Mystery", my mind was a blank slate as I plunged into it and I was in for a pleasant surprise.
Since childhood, I have always devoured thrillers with a detective as a protagonist. Be it the classic Indian Television series "Karamchand" or the iconic "Byomkesh Bakshi", the associated memories are still clearly etched in my mind. I am glad to share that in Vikram Rana, Ms. Shenoy has created a detective character which has the potential to be in the same league as these glorious detectives we have cherished during our growing years. The "Vikram Rana Investigates" series is set in the city of Nizams (which probably made me connect to this book all the more being from Hyderabad myself) and "A Season for Dying" is the second installment in this series.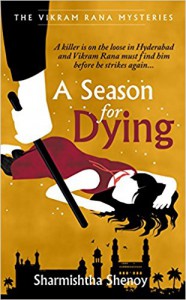 Book Blurb
Note from a killer
"This is Prakash writing. I am the murderer of Padma Manepally. I am attaching photos of her dead body taken in her apartment today to prove that I am indeed the killer. Old ladies make nice soft targets. I think I will wipe off an old lady next. …Catch me if you can."
1st April, 11:30 am Charminar: A housewife is strangled to death.
15th April 5:30 am Begumpet: A reputed doctor is bludgeoned to death near Begumpet Station while out on her morning walk.
A ruthless killer is on the loose. He has openly challenged the police to catch him. The reputation of the Hyderabad Police is in tatters. The psychopath is roaming freely across Hyderabad killing indiscriminately. Or is there a method in this madness? Who are these victims and why they have been selected by the murderer? ACP Gopi Reddy ropes in good friend Vikram Rana to help him. As Gopi Reddy admits, 'Random killers are the hardest criminals to catch.' But to Vikram Rana something about these brutal incidences does not ring true and these crimes seem to be related…. Will Vikram and ACP Reddy be able to prevent another murder in this race against time before this monster strikes again?
What works:
Taut and action-packed narrative – It is imperative for any novel in this genre to keep the readers glued right from the start to the end and the author succeeds in achieving this with her taut and action-packed narrative. I was enthralled throughout and was on tenterhooks till I discovered the identity of the murderer. The author has deftly woven the story around many characters without making it chaotic and the element of suspense all through makes it an absorbing read. The needle of suspicion points towards different characters at various junctures in the tale and just when you feel you have cracked it, you decipher another angle which makes you think again. I could not guess the identity of the culprit with surety at any instance and the climax did leave me open-mouthed.
Characterization of Vikram Rana – Vikram Rana comes across as clever, quick-witted and intuitive, and his well fleshed out character infuses the novel with authenticity and vivacity. I felt enamoured by his integrity, his eye for details and his succinct dialogues. I liked how the tale has been beautifully speckled with glimpses into his personal life, humanizing his character and making him both, awe-inspiring and relatable, at the same time.
The plot
The basic premise of the story is one of its biggest strengths. This is not a run of the mill whodunit wherein a murder happens and the investigating officer goes about his job in a linear fashion to grab the felon. The very fact that the killer is blatantly informing the police of his crime and is openly challenging them to prevent him from committing his next planned murder makes for a juicy and intriguing plot.
No bloopers
It's not easy to keep the plot devoid of any glaring loopholes in a complex murder mystery but kudos to Ms. Shenoy for skillfully ensuring that everything in the end ties together like an immaculately solved jigsaw puzzle. After completing the novel, I actually tried to revisit certain sections of the story looking for possible bloopers but could not find any.
What could be better:
Editing
In a novel that had almost everything going in its favour, I felt that the author was letdown by the editor. Crisp and meticulous editing could have taken the novel a notch higher, but unfortunately there are frequent typographical and cosmetic errors all through. At some points, these errors were jarring and I had to go a little back and forth to get a hang of things.
Overall, "A Season for Dying" is an impressive work of fiction which I would certainly recommend to the thriller/mystery lovers for a quick, riveting read. I am looking forward to read more in the Vikram Rana series.