Book Details:
Author: Sinjini Sengupta
Publisher: Readomania
Available for purchase at the following link.
Review:
I was aware about the success of "Elixir" as a short film and the rave reviews it had been garnering at various International Film Festivals. So, when I read that the story has taken the shape of a novel, I was eagerly looking forward to get my hands on it. However, I wasn't aware of the plot of "Elixir" till the time the book arrived at my abode. The moment I read the fascinating blurb, my curiosity was piqued and I was intrigued to know more about Manisha and her parallel world.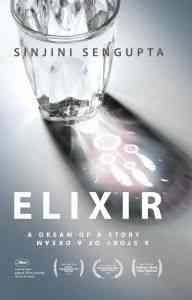 Plot Summary
He is an affluent entrepreneur and she is a successful professional. They have a perfect life or so it seems. It is their 10th anniversary – the big one, the special one! But why isn't Manisha happy? Why is she feeling a void? On a perfectly normal day, while on her way home from work, Manisha enters a coffee shop and then her life starts changing. She meets a man there and he comes to her in her dreams that night, and every night thereafter.  She starts a new journey with him in parallel to her existing life. But what happens when the lines between her reality and dreams get blurred? Will Manisha be able to find her answers through her parallel existence?
What Works
The vivid and poetic prose – With Elixir, the author takes the reader on a journey which is heart-breaking yet fulfilling, melancholic yet uplifting. What I loved the most about the novel is its sublime poetic prose and vivid imagery which hooked me right from the beginning. As the story progressed, I was gradually immersed into Manisha's world and was a part of her reality as well as her dreams. When you get to read lines like the ones I am quoting here just a few pages into a novel, you know you are in for a literary treat.
"When rain hits the earth, it brings a few pieces of the sky down with itself…have you ever seen it? The pictures shift as you do…the tall towers, the TV antennae, the row of pigeons on electric wires…and far beyond, if you look, the endless blue of the horizon. These solitary reflections, they last throughout the dark nights…And then? Then, on the morrow when the sun comes calling, they go back. To make the sky one whole again. But wait. Can the sky ever be whole, with such void all over itself?"
I was mighty impressed with Miss Sengupta's ability to make even the most mundane situations sound lyrical through the magic of her free flowing, elegiac words. Consider this paragraph in which the author is simply describing Manisha's laptop screen when she is at her workplace and ends up conveying a lot more than merely what is being displayed.
"The screen falls asleep. The company's vision statement swims across the seventeen inches in a diagonal motion, zooming in and zooming out in remembrance of promiscuous promises of integrity, commitment and loyalty. The mailbox sticks out its 'inbox' to her in bold font, blinking in bright red and blue, as information, facts, figures and requests start to hit up in pieces."
The protagonist's characterization – Manisha is not just the protagonist of the novel but a reflection of most women around us. Her character has been so beautifully developed that it is not at all hard for the reader to delve into the labyrinths of her mind. As a woman, I could understand her pain, her emptiness. I wanted to help her and comfort her. There were times when I would just get lost in her thoughts even when I was not reading the novel, the credit for which goes to the author for creating such a relatable and poignant central character. Rains have somehow always been an integral part of the important days of my life too, just like Manisha, and I guess these little similarities made me connect all the more to her at a deeper level.
Sensitive handling of a thought-provoking story – While the concept of "Elixir" is mind-blowing and unique, it is also complex and requires a keen understanding of human mind and emotions. The wonderful news is that the author has deftly handled the subject with utmost sensitivity and affection. The threads of the tale have been woven together in a seamless manner. And while I don't know if it was intentional, but Elixir raises some pertinent as well as uncomfortable questions about our judgemental and controlling society, our patriarchal culture and the sorry state of our understanding and awareness about mental health. We are living in an era where people actually judge the life of others based on what they see on social media. I have seen that the same people, who post about how any kind of mental unrest should not be mocked at, are scared to even acknowledge its presence in their loved ones. Some don't care enough, some don't take it seriously and some just thoughtlessly state – "Stop being a cry baby. What else do you want? Just be happy". Mind you, nowhere in the story does the author talk about all this. And that is the beauty of "Elixir". It makes you ponder and wonder without being sanctimonious.
What could be better
I had mixed feelings about the climax of "Elixir" at first. It was excruciating for me, even though somewhere I could see that coming. I wanted an alternate ending and hence, I had a gnawing feeling within me for hours after I had completed the novel. I kept thinking about it and eventually, I did feel settled. When I looked at the climax from a different perspective, I was happy for Manisha. This is probably one of those books which will speak to you in different ways each time you think about it or re-read it.
I felt that the pace of the novel slackened at more than one instances in the second half. There was a point when I was getting a little impatient as the narrative seemed stretched. This did take away a bit from the emotional impact the story had created thus far.
Overall, "Elixir" is an experience – exactly the kind I have when I sit by the seashore in solitude. Barring the few glitches, it is undoubtedly one of the best books I have read so far from the house of Readomania. This one surely deserves not only your time but also its own space in your thoughts.