How often have we experienced that some days unexpectedly turn out to be life-altering for us? A second here and there, a moment out of place or seemingly random chain of events can make us wonder if it was really just another day in our lives.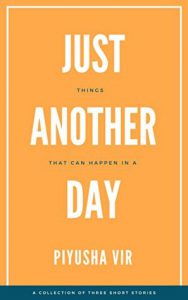 Sometimes the rhythm of our existence gets disrupted, sometimes something changes within. Sometimes, a lesson is learnt for life and sometimes our journey changes its course. Author Piyusha Vir's debut novel "Just Another Day" brings out this very essence of life skilfully in the form of 3 delectable short tales which are as crisp and taut as they are powerful and sassy.
The book cover is unique and aesthetically designed and intrigues the reader instantly to get a peek into the contents inside, and you are bound to get hooked right from the word go. With a brilliant concept and her masterful storytelling, Vir gives us a quick, riveting reading experience with a lingering aftertaste. Each of the three stories is of a different genre and the choice of first person narrative throughout works wonderfully in a book of this nature.  While reading the stories, I felt like I was having a one-on-one conversation with the characters, which made me empathise and understand them in a way I would with a real person.
The novel opens with a thriller titled 'Writer's Circle'. This story is set in a crime scene and at the beginning, it is hard to decipher where the author is leading you to. The strength of this story is its witty and smart narration, and a delightfully fleshed out female protagonist with an interesting character graph. It was fun to get inside her mind and solve the mystery along with her.  Somewhere along the way, the reader is able to guess the suspense of this whodunit but that is because the author gives it away intentionally leading to a predictable, yet unconventionally handled climax.
'Happy Birthday Saisha' is the next in the collection and my personal favourite of the three gems. The star of this story is the writing and the author's prowess with her pen shines through with this one. It is a subject widely written about but Vir's utmost sensitivity and maturity in narrating the story of Saisha makes this tale stand out. It will make you think and reflect, and will also hit you like a ton of bricks, so much so that Saisha has been etched in my mind forever.
'The Elevator Tales' is a relatable and breezy read with a charming and goofy protagonist.  It comes in at the right time as a breath of fresh air and is the perfect choice to end the novel with. It is a story about first love and the things we do to attract the attention of the one who sets our hearts fluttering. I had a broad grin on my face throughout while reading this one. What particularly impressed me about this story is the remarkable way in which the author has made an exciting read out of something as mundane as using the elevator.
In a nutshell, Just Another Day is a novel which is certainly worth your time. The author has successfully managed to pack more than a punch in a few words and this does not seem like her debut work of fiction.  I also feel that this book is a game-changer of sorts and will bring about a transformation in the mindset of readers towards short e-book reads. Go, download your copy now and relish it with a cup of coffee! You will not be disappointed.
//This review was published on Women's Web and is available at the following link.