The pandemic has been a tough time for kids in many ways, yet they adapted to the abrupt change in their lifestyle as best as they could. It is not easy for them to stay at home without jumping around with their friends or bonding with their school mates. They have also been missing out on all the stimulation they get from outdoor play which is so essential for their development. As a parent, I have been trying my best to help my almost 6-year-old stay excited and active through this phase at home.
This year, due to the environmental changes, winters have been predicted to be harsh in Hyderabad. Because of this, I was looking for a rug for my daughter because she spends hours on the floor playing with Lego or making innovative crafts. Our area particularly is always 2-3 degrees lower in temperature than the city because it is on the outskirts. Hence, I thought that a nice, comfortable rug would be a great buy as it would bring in some excitement and also be useful during the chilly weather. My search ended at this fabulous website of "Raj Bespoke" where you can find absolutely gorgeous and good quality rugs, doormats, bath mats and pet beds.
What caught my attention in their collection was the sheer variety and uniqueness in designs which I have never come across in any mall or regular store. The diverse, adorable and beautiful collection in the kids' rug section made us spoilt for choice and after much deliberation, my daughter and I zeroed in on the machine tufted and printed Hopscotch Rug. The reason was simple – it would serve a dual purpose of a rug as well as a play mat where we could have outdoor fun of hopscotch within the safe confines of our home.  I was thrilled that this would give us ample fun time to bond while ensuring some physical activity. The website has been designed aesthetically and is easy to navigate. The different size diagrams given at the bottom of the page on the website are very helpful for the rugs category.
I must compliment the professionalism of the brand as the rug arrived before the committed date and we received regular updates on the delivery too. The packing was done with great care and my father explicitly asked me to mention the quality of their packaging in my feedback to them. Once we opened the rug, my daughter's joy knew no bounds and the delight on her face could be seen throughout the day. She hopped, she jumped, she made castles and she lay down, without letting go of it for even a minute.
In the past, I have avoided buying furniture or home decor items online because of a couple of experiences where there was a mismatch between the actual product and the images that were displayed at the time of making the purchase. But, this time it was really satisfying and heartening to see that there was no discrepancy at all. Be it the dimensions or the overall appearance, we got what we were promised. Even the texture of the rug is smooth and soft. It looks and feels like wool, but the fiber does not break free or fray at all with use. A huge plus for someone like me who prefers quick hacks for cleaning is that it is also hassle-free maintenance. On the first day itself, my daughter spilled some paint on the rug by mistake. But we wiped it well immediately, and it was all spick and span again. The surface is easy to clean and vacuum.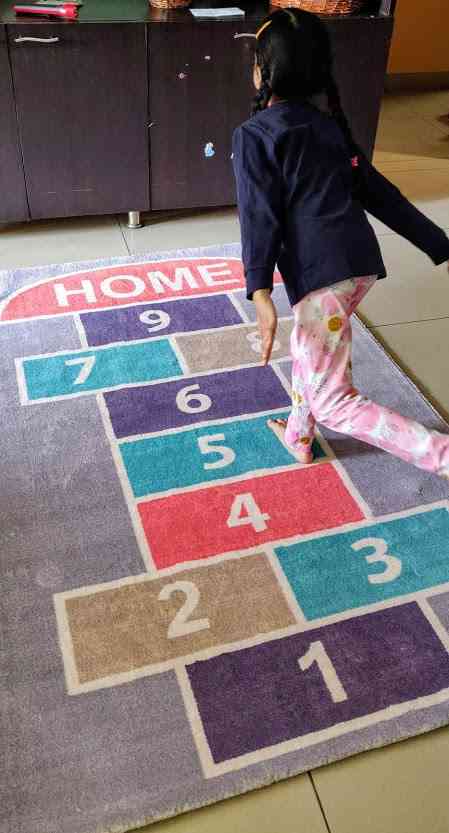 All in all, I am a delighted customer and hence, would highly recommend checking out the product range of 'Raj Bespoke'. Considering the product quality and finesse, reasonable prices and distinct designs, it is value for money and definitely worth a dekko! We are totally in love with our Hopscotch Rug.
Links to contact/follow Raj Bespoke:
Website: https://rajbespoke.com/
Instagram: https://www.instagram.com/rajbespoke.india
Facebook: https://www.facebook.com/rajbespoke.india/