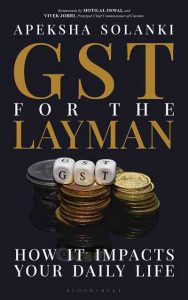 I never thought some day I would be reading and reviewing a book on the subject of GST. I surprised myself when I felt immersed in the book because I am not into non-fiction, more so into something as 'dry' as finance as per my own perception. But I am not exaggerating when I say that Author Apeksha Solanki
has come up with a gem and has proved that even taxes can make for an interesting and enriching read. She is a qualified chartered accountant and has a rich experience of working in the fields of both direct and indirect taxes. She makes use of her knowledge and writing prowess to make life easy for people for whom GST still remains a mystery even after almost 4 years of its introduction.
In some or the other way, GST is a part of all our lives which makes "GST for the Layman" published by Bloomsbury India is
a must-read for all of us. I admit that for the longest time, I felt decoding GST was like grasping at straws. Not just as an entrepreneur but even as a buyer, it's been a struggle to understand it for what it is. Add to this confusion all the buzz around it and the concept of GST becomes even more intimidating. And this is where this book wins because of the way the author has explained every aspect of GST with utmost sincerity, simplicity and clarity.
The presentation is creative where she uses the format of interactions which hooks the reader and keeps the interest alive throughout. For someone like me who gets lost in the midst of too many technicalities and jargons, this style of writing works quite well. There is an instant connection from the word go because it feels as if a friend is talking to me about it all rather than an expert bombarding me with loads of information. The author breaks down the complex subject matter into easy to comprehend and coherent sentences. The book is comprehensive as it covers all and sundry, and is succinct as it keeps the detailing limited to how much is necessary and sufficient.
Structured in a lucid manner, the book is divided into two parts. The first focuses on understanding the basics and the second brings to light how GST impacts different industries and day-to-day life situations. Whether you are a salaried employee or own a business, whether you run the household or shop online, whether you are a student or a consumer – this book has something for each one! I also loved the idea of having a section at the end about how the Government is engaging with people. Apart from the fact that it gives you an idea about where one can find relevant information from the Government, it is also assuring and allays concerns.
All in all, I think "GST for the Layman" is a unique, informative, engaging and important read. The book is definitely for keeps!
You can purchase the book on Amazon from here.