"Masala Mix – Potpourri of Shorts" is an apt tile for the latest novel by Anupama Jain, an offering from the house of Readomania. The book is an assortment of 15 short stories which make for a vibrant palette of varied colours. No story can be tied to a specific genre because these are slice-of-life stories and life cannot be boxed into a category. You will find yourself or your loved ones in these stories, which are about relationships and the many shades of life that we all relate to at some level.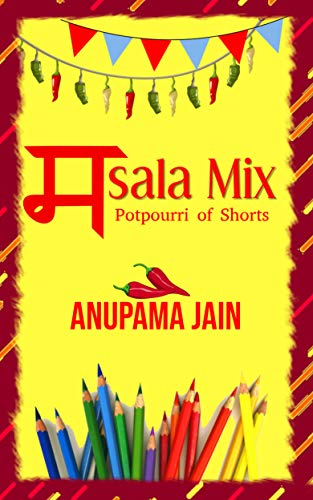 What works in this novel is the classic, patent 'AJ style of writing' which is so unique that I think it is a chapter in writing in itself. She skillfully and fluently creates multiple worlds to touch upon an array of topics and issues with a subtlety that dissolves into the mocktail. It cannot be seen but you know it is there because it leaves a pleasant aftertaste. I am amazed at how she catches the reader unaware at multiple instances and you would not even realize when a guffaw would transform into moist eyes or when unadulterated love would emerge from within to silently warm your heart. She makes you chuckle, she forces you to pause to reflect and then also enables you to move forward.
If I have to pick my favourite stories from the lot, I would say that she begins with a bang with "Mum's the word,always!" and saves the best for the last with "Krishna and Vasu". She hits the nail on the head with "The Marriage" and "Right call to take?" in which she packs many nuances and layers into the narrative with brevity.
On the whole, "Masala Mix" lives up to its name and is an enjoyable, quick read which comes as a respite in these turbulent times. It is just like the much desired 'Pani Puri' – it may not be a conventional full course meal but is palatable and a delightful indulgence that quietens the rumbling stomach and satiates the craving taste buds. Go for it!
You can purchase the book here.