This is the first guest travel blog on the website written by a wanderbug, who is also a very dear friend, Neelambari Warty. She owns the travel brand "Beyond Trails" which is connecting the world one person at a time. Her motto is to create memories for people that last a lifetime and she strongly believes in travel therapy. Her company provides wonderful customized travel packages and ensures that you start looking at travel from a different perspective.
This write up is from her travel website and all the pictures shared are her copyright. This is about a trip we did together, which has been one of the best trips of my life. Following is the link to her travel website which I highly recommend everyone to visit.
Nature never ceases to amaze the hell out of you. Same mountains, same sky, same old trees, same sun, same moon – but a slight drop in temperature and its staggering how your visual perspective is influenced. I love winters or any temperature that sounds cool.I avoid getting a heatstroke like most of you guys. It kills my vibe.I am revisiting this trip while writing my journey and I realized it's special because I needed a break from being physically and mentally unfit.Overthinking and getting overwhelmed by life in general. This was a welcome change indeed. I won't even try to explain .Just go and experience this place when you get a chance. You cannot comprehend why some places make you happier than others.
We visited Himachal Pradesh in September and were welcomed with drizzles on more than one morning. So dripping in romantic nostalgia we stayed in half a day. Pushed aside all plans and stretched our feet and talked about life and also about people who were passing by below this balcony. Trying to figure out their life through our perspective. Rains were the perfect alibi to the numerous cups of tea/coffee/hot chocolate and hot piping fried dumplings we devoured. I chose not to travel during the peak season aka Indian summer because everyone is headed to the Northern states of India. A great girlfriend vacation with two of my awesome girls. We were out for almost a week's time and our itinerary included the following Chandigarh-Dharamsala-Mcleodganj- Amritsar- Chandigargh.
We visited my cousin who was posted then at the YOL army camp in Dharamsala. Perks of knowing people who stay in the town you visit – scrumptious homemade food. Karak chai refreshed us and we left for the Norbulingka Institute of Tibetian Arts & Culture. Now being in Dharamsala is a cordial occurrence by itself and then you enter this paradise. This place brought such tranquil to my soul and left me wanting for more even when I had just stepped in minutes ago. My whole being filled with serenity. We were taken for a quick tour by the in house guide.I was familiar with Tibetian prayer flags and colour palette from my Ladakh visit. The more I stayed the quieter I felt. Like my soul was gaining composure, the deafening silence filling an abyss inside this agonized little head of mine. Then we sat near the Spring of life and felt all the anguish drifting away.I read more about the layout of the temple after a few days and found out that it was infact, designed to give this very impact.
The whole Tibetian way of life is to give rise to a compassionate community and harmonious living.I came here twice as the first time wasn't enough and we reached just an hour before they close.. I wanted to see the artisans at work.So we came back after 2 days and spent a good 3 hours here.The artisans at work were a delight to watch, their steady hands working on masterpieces which are shipped to different parts of the world. You are not allowed to click the marvellous paintings they were creating. Watched them work meticulously on massive canvas and talk to me simultaneously. They have 9 workshops for Thangka painting, statue making, thangka applique,tailoring,weaving,screen painting,applique, wood carving and weaving. Artists come and reside there for months to train for these Tibetian cultural skills.
More pictures below also include the famous Dharamsala stadium, hosts IPL matches against the scenic Dhauladhar mountain range.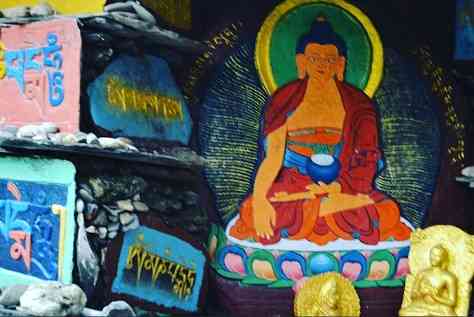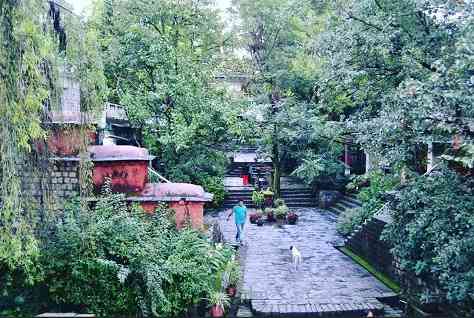 Next stop Triund and then Dharamkot. We only started the trek at Triund and stopped within minutes. Instead we decided to go explore the cute town nestled just below the hill , where we parked our car.We were wonderfully lost in this magical place. There is a massage parlour you can visit for a foot massage, Body Temple, heard great reviews from the locals. A famous tattoo studio, Body Piercing. Small alleys , quaint houses, funky graffiti sprawled across as far as we could see.Tiny shrubs.Its a beautifully secluded place.Out of nowhere I hear a yelp, see a pinkish child running towards me at what seemed like 60 km/hr. I hasten to aim my camera, sit down and click him in action. He was too quick though and came and leaned on me with his soiled tiny hands as I was kneeling down to click. I almost fell trying to save my lens.He wanted to play with the camera. I reluctantly told him its not for kids, just because you are cute you can't get your way.He had golden brown hair and a fruit in one hand, also nails were painted.As I write I remember smelling the mustard oil in his hair. Cute little being.He refused to let go of me.As if he found some long lost acquaintance.I let him push some random keys on my tablet while I asked my friend to click us. It was a hilarious event and we left smiling from that place.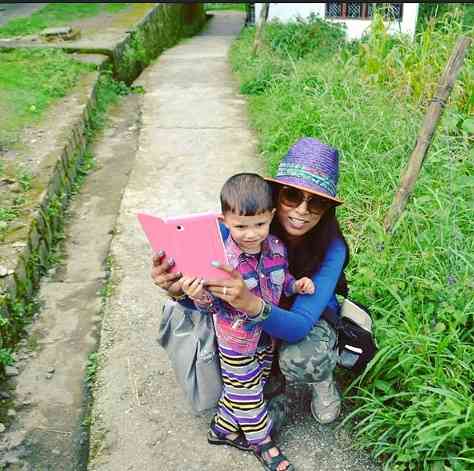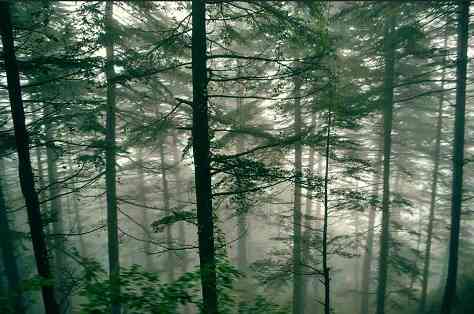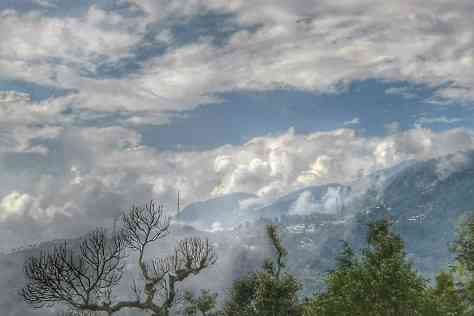 Third day here we wake up to an amazing misty morning. We were staying right behind the Dalai Lama temple. We were fortunate enough to be there when 'The Dalai Lama ' visited Mcleodganj. We couldn't make it to the preaching but we definitely did hear his voice on the microphone in our hotel room. Today only two of us headed out. Our friend decided she wanted to take a day off wandering and enjoy the view. So we set out for the Naddi trek.We had maggi and tea for breakfast. Felt it was the best thing thatmorning.Once we set out to explore the mountains, within minutes we were wonderfully lost as we took a wrong road.We were relishing the breathtaking sights. No pollution and scarcely populated.We came across a few local villagers. Some ladies who were doing their usual chores. Some kids who were out on their lunch break, running upto the one tap to wash the plates they used to eat. I saw such humbling smiles.Some conversations about their daily struggles put us to shame for groundless excuses we dole out for our shortcomings. We also visited the Dal Lake. In the crux of that moment it dawned upon me what they mean when they say 'Travel is the only thing you buy which makes you richer'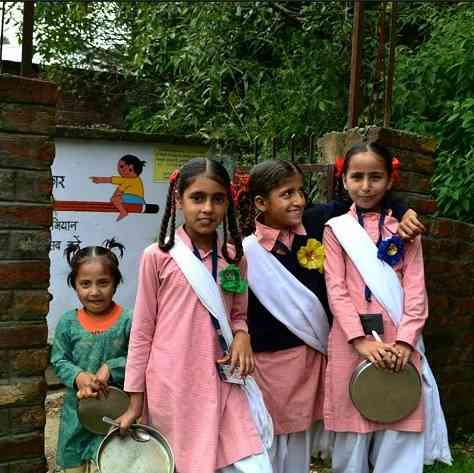 We pretty much found a lot of eateries and there was no end to the menu on this trip. Hot favourite is Moonlit Cafe at Dharamkot. Amazing cinnamon tea and mushroom soup,grilled chicken salad.You can sit on their 1st floor café which gives you the most amazing view of the grand mountains which stand like giants staring at you from miles away. I went there twice to enjoy their food.Wood fired pizzas to melt in your mouth. Momos, Fried dumplings to pastries. Cinammon tea with Ceasars salad was a great choice while I read a compelling novel at a cafe in Dharamkot.The Chocolate Leaf is a small make-shift cakeshop on the way upto NADDI. It has only 2 to 3 types of pastries and cakes but they are awesome. I gobbled 2 right there and packed 2 more for on the way back. It's run by a sweet lady called  Rima ,just come down to settle her daughter in one of the boarding school.The Chocolate Dog featured on a program on NDTV : Highway on my plate – did live upto my expectations.They also have 2 cottages to rent out and a wine shop which has Ginger Wines  for about 5dollars. Must try.Foodies have a lot to gain ,I literally mean it. There is Jimmys Breakfast, Tibetian Kitchen, McLoo. Maggi at Naddi. Maggi at Bhagsu waterfalls. Maggi everywhere.Food with bewitching trail of trees and sunset hues.
Mcleodganj is a place which will leave you with a nice warm feeling of belonging. You must wander around aimlessly through the town without an agenda.Discover what lonely planet doesnt highlight.Get your own version of this place. Street shopping is fun , just walk around the lanes -winding streets, uphill, downhill -lovely jewellery, vibrant local costumes. Items made from Tibetian fabrics is a must have. I have a bright green cloth bag as a sovenir.
Travelling with like minded people has truckloads of perks. They are flexible. They are open to making impromptou changes.They give you solutions to unlikely problems which arise during a trip and not the other way round. They don't force the other to tag along. They explore on their own. You can have me-time even when in a group. They don't invade your privacy. I was lucky to be accompanied by two individuals who are bitten by the wanderbug. You get to explore the place and can connect deeply to your travel. Cheers to such free spirited individuals. Certainly travel is more than the seeing of sights,it's a change that goes on deep and permanent in the ideas of living.
Travel Beyond Trails.